Charming bouncer with vibration in the seat is a proposal for the youngest children.

Advantages of the seat:
Beautiful graphics, excellent performance of the child car seat ensures a comfortable stay in this seat. Bouncer provide practical and useful solution that will facilitate the functioning of the parents when caring for a small child. The seat can be used as bujaczek lying down and when you turn the vibration, will help us to sleep or calm the baby. The seat has seat belts, so that the baby can safely stay on it. Colorful toy will encourage your baby to play with and make the time spent in leżaczku. Reaching out for toys and their capture will help the development of visual-motor coordination of the child.
Included toys melodies combined with interest and variety to your baby zabawy.Leżaczek time he has a soft, comfortable seat, very comfortable for our child, the case is downloaded so you can easily remove and wash it in cold weather. With easy assembly and lightweight construction also had a check while traveling.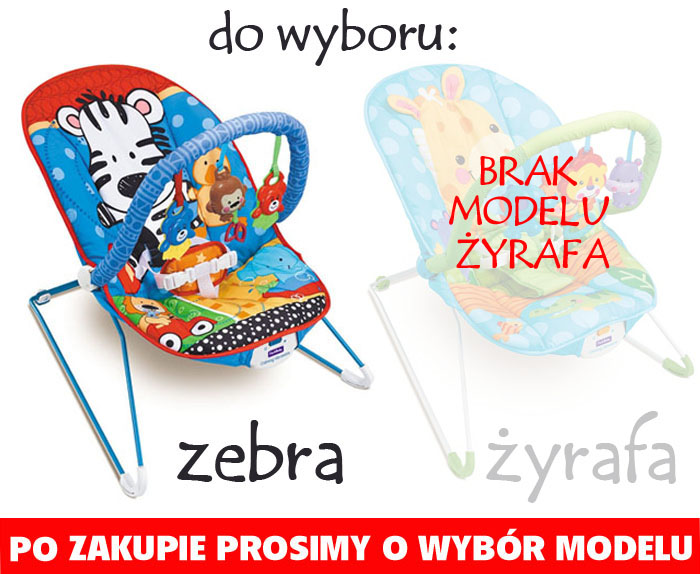 Specifications:
Dimensions Baby Cocoon:
- The length approx. 90 cm
- Width of approx. 41 cm,
- Height approx. 42 cm
The maximum weight of a child up to 10 kg.
The vibrating mechanism powered by a battery (1x R20) - not included.
Toy - music box with a bow powered by two AG13 batteries - not included.

Cover Baby Cocoon is removable, it can be washed. Washing Rules:
- Max. At 30 ° C
- Limit tumble drying at a lower temperature
- Do not use bleach
- 100% Polyester

Equipment:
- Bouncer-bujaczek
- Headband with three toys
- Vibration seat

Bouncer packed in a nice, colorful box perfect for gift giving in August.
 

Package Dimensions 53,5cm x 39cm x 9cm
Weight 1kg
Age + 0